The environment of clinical trials is shifting. Clinical trials are evolving, like the methodologies used to support and provide the critical clinical trial monitoring required to protect patient safety. The way we view clinical trial design has altered due to new technologies and innovation.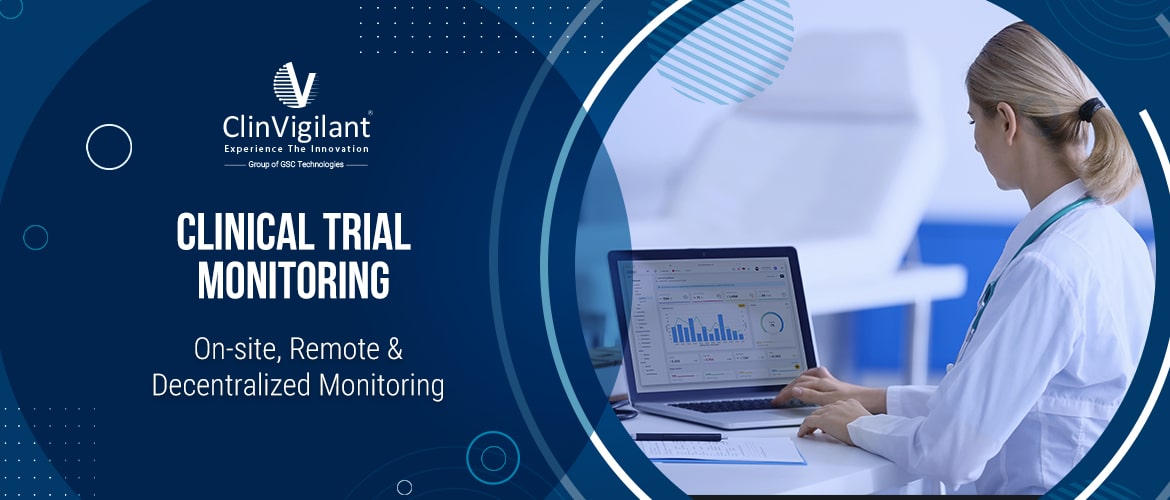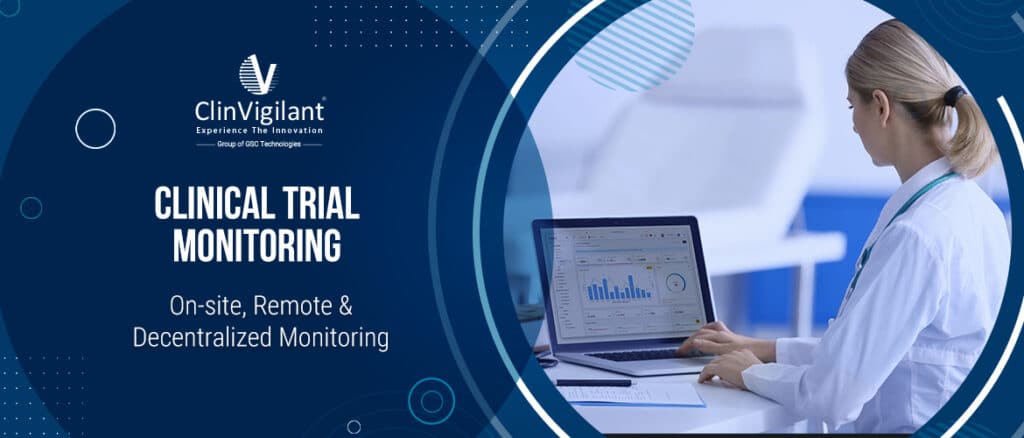 To understand the basics of Clinical trial monitoring and risk based monitoring, click here to refer our previous article.
Now in this article lets understand the different monitoring's, their benefits and type of trial designs (Virtual, Hybrid, & Decentralized trials) based on different monitoring methods.
Clinical trial monitoring are of three types: On-site , remote and centralized monitoring.
On-site monitoring
On-site monitoring entails evaluation performed in person by staff or representatives of the sponsor at the investigation site.
On-site monitoring offers an undeniable advantage to a clinical trial when risk-based quality management comprises a regulatory focus.
On-site monitoring establishes relations with the local study team. Even though it might appear insignificant, developing a relationship between the two stakeholders—the study team and monitors—has enormous advantages. Successful relationships enable the monitor to identify and address problems at an early stage.
The benefits of on-site monitoring
Preserve the dignity and safety of human subjects
Adherence to protocols and relevant legal requirements
Check the data's completeness and accuracy.
Immediate reactions and solutions are available
Difficulty in population selection, traveling costs, time consumption, less teamwork and interactions, and patient isolation are some disadvantages of on-site monitoring.
Remote monitoring
Remote monitoring refers to the evaluation carried out by the monitor away from the location of the clinical investigation.
The benefits of remote monitoring
Remote monitoring meets the existing need while assisting the sponsor in implementing a more effective and cost-effective remote strategy.
Enhances efficiency around current internal processes by integrating with existing workflows.
Improves site transparency and oversight
Exchange and collaboration of virtual documents do away with the tedious process of gathering documents using paper, email, or FTP portals.
Monitors site productivity and progress, reveal bottlenecks, and makes it easier to choose new sites based on past performance.
Virtual, hybrid, and decentralized clinical trials come under remote monitoring.
Centralized monitoring
Centralized monitoring is the conduct of an analytical evaluation by staff or representatives of the sponsor at a location other than the site of the clinical trial investigation. Because they are both performed away from the clinical trial site, remote and centralized monitoring are frequently confused.
The benefits of centralized monitoring
Enables the early identification and mitigation of data quality risk or issue(s) that could endanger the reliability of study results.
Enhances subject security and patient safety monitoring.
This increases CRA effectiveness and aids in the efficient and objective use of their time during on-site monitoring
Monitoring site performance can assist in planning on-site monitoring visits and making the most of those visits to cut the cost of those visits.
The reduced patient-investigator relationship, the Need for advanced regulatory requirements, and patient safety and security are some concerns in remote and centralized clinical trials.
Virtual and hybrid clinical trials come under centralized monitoring.
Now using all the above ways of monitoring's, a new methods of conducting clinical trials came into picture. These are Virtual trials, decentralized trials, and hybrid trials.
Virtual clinical trials
A virtual clinical trial is a decentralized or remote clinical trial that uses technology to support its clinical trial processes. Virtual clinical trials (VCTs), which use technology (apps, electronic monitoring devices, etc.) and online social engagement platforms, are a recent and underutilized approach to clinical trials.
Virtual clinical trials lead to significant digital changes in clinical research methodologies, enhancing the patient-centric ecosystem.
The need for a diverse patient population, the use of telehealth, and strategies to avoid the time-and money-consuming traditional clinical trial procedures are some factors that propelled the expansion.
Virtual clinical trials have the potential to support significant digital changes in clinical research methodology, enhancing the patient-centric environment. These solutions have several technological advantages, including cutting-edge applications, electronic gadgets, online social engagement platforms, robotic process automation, and machine learning.
Virtual clinical trials use telehealth and digital technology to conduct secure and superior clinical trial research by incorporating virtual patient monitoring, wearable medical devices, remote SDV, etc. These virtual trials are convenient, affordable, and patient-focused.
The benefits of virtual clinical trials
Patient-centered care delivery

Educates patients about their illnesses by directing them to study websites and consent portals that are readily available online. Under the virtual clinical trial process, patients receive extensive education.

Enhance data quality

The likelihood of adverse occurrences in clinical trials is limited because the data is electronically recorded and continuously watched. CROs can execute a patient-centric strategy and learn more about patient lifestyles.

Improved communication

CROs and patients gain real-time collaboration and communication since it allows for open information exchange. Improved communication leads to a successful clinical trial process with excellent outcomes and no misunderstandings.

Cost-effective

Virtual visits reduce the costs associated with travel and transportation by avoiding missed appointments and potential readmissions.

Reduced healthcare costs.

Virtual clinical trials reduce the need for hospital stays, pointless travel expenses, and much more.

Improved patient retention

Patient retention is improved with personalized virtual care because investigators and expert advice are always available when needed, wherever they may be.
Decentralized clinical trials
We can conduct a decentralized clinical trial that can be performed remotely or with a hybrid approach that still requires some physical site attendance.
We conduct decentralized clinical trials by utilizing neighborhood labs, home health providers, digital consent data capture, direct-to-patient drug delivery, home health providers, and remote monitoring and diagnostics. The objective is to reduce or eliminate the need for in-person interactions between researchers and participants.
Decentralized clinical trials can make research more accessible to participants demographically who might not otherwise participate in site-based clinical trials. Additional benefits include an increment in participant recruitment and retention, increased engagement and diversity, and cost reduction related to running trials.
The benefits of decentralized clinical trials
Extra adaptable

The core of a traditional clinical trial is the research center, where the clinical operations team monitors trial data for a local population in life science studies. For study visits, participants must travel to the location. The process can significantly interrupt their everyday routines. However, DCT takes a patient-centered approach by using virtual tools like telemedicine and wearables to conduct remote consultations and keep track of data. Consequently, allowing data submission from anywhere and having blood samples done at home will make participation in the study more flexible.

Improved patient retention and recruitment

DCT has the potential to increase study participant recruitment and retention.
Regular onsite visits are one factor that affects dropout rates. Dct helps to conduct the clinical trial while maintaining patient centricity by making fewer site visits.
DCTs put the trial participant first and can lessen these difficulties by leveraging wearable technology for virtual clinical trial data collecting and telehealth services for remote visits.

Patient interaction in real time

Any clinical trial needs effective communication between the participant and the study site staff because it keeps participants motivated and improves retention. DCTs can communicate with participants in real time by using ePRO (electronic patient reporting outcome) systems.
Hybrid Clinical Trials
A hybrid trial combines elements of traditional and virtual clinical trials. Like in traditional clinical trials, participants in the study were divided into different intervention groups at the start.
A virtual design might be ideal for you if your upcoming clinical trial is straightforward and won't require any in-person meetings.
You should seriously consider a decentralized trial design if your study calls for several patient populations and you have the resources to train individual healthcare professionals to deliver your investigational product.
In hybrid clinical trials, some study procedures are carried out remotely via mobile phones, wearables, or other gadgets, while others are in person at conventional study locations.
The advantages of hybrid trials include giving participants the option to engage with study staff in person while participating in some study activities online.
The benefits of hybrid clinical trials
Hybrid trial suggestions that lessen the strain on patients

Sponsors can better understand what might make a trial succeed for patients, their caregivers, and their families by involving patients early in the research design process. Patient organizations can help sponsors identify challenges early on, such as the travel distance, length of study visits, and patient financial costs, to determine which aspects of the trial are better to reduce patient suffering.

Navigating the anticipated difficulties

To successfully conduct the clinical trial, we still have several issues to address. Since no single platform or technology is used consistently across all studies and sponsors, study staff members need time to learn new ones and find opportunities to put them to use. When sites are managing numerous studies at once, this can be challenging.
Training in new technology and hybrid tools will be crucial for implementing a hybrid paradigm successfully. As sites gain proficiency with these tools, they can increase their capacity to perform more trials.
FDA released guidance for
Conclusion
In the pharmaceutical industry, decentralized, virtual, and hybrid trials are hot topics that have already been used in a few clinical studies. Researchers firmly believe it is the next major step toward making clinical research more patient-centric and that this will have a substantial impact on the ongoing problem of patient recruitment.
Clinvigilant is a step forward in using digital tools to overcome the challenges in traditional trials. We have expertise in performing decentralized, virtual, and hybrid trials which are thought to be the future of clinical trials. So we are future ready!
---
Do You Know Which Type Of Monitoring Suits Best For Your Clinical Trial?
Do you need our support in your clinical development or are you looking for any of our services for your clinical trials? Provide your requirement details below to connect with us and explore our expertise.
---