Top 5 Drivers To Improve Study Start-Up Timelines & Performance In Multi-Centre & Decentralized Clinical Trials
Timely initiation of clinical trial program is an important aspect of the entire clinical study calendar. Improving study start-up timelines is essential for successful project implementation in terms of costs, resources and overall progress of the clinical development program.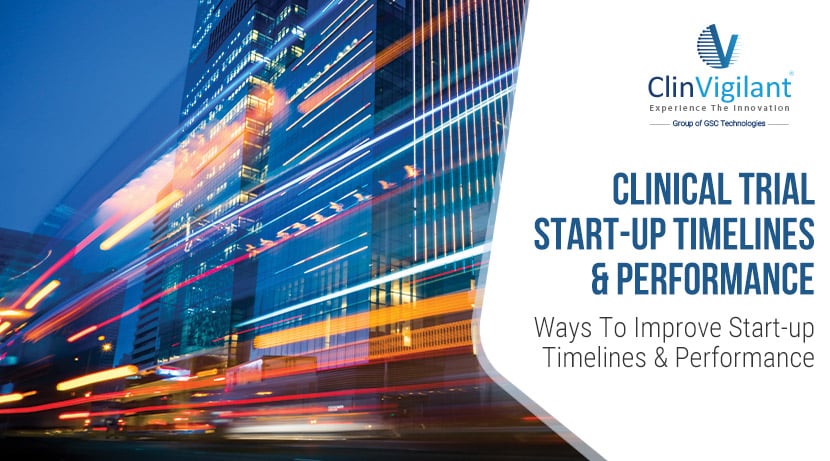 The requirements for multicentric, multinational clinical trials contribute to the operational complexities. These clinical trials demand diligent project planning strategy projecting feasible and reasonable timelines integrating efficient processes and checks. Study start-up is an integral part of the entire project planning. Delays in clinical trial start-up affects study conduction timelines. It significantly increase costs, delays in the development program and affects the overall success of the clinical trial.
Traditional clinical trials have heavy dependence on trained workforce comprising of
study coordinators,
research assistants,
Investigators and their teams,
logistics partners,
laboratory teams as well as data collection,
compilation teams for various activities.
Technology advancement has offered digital tools and platforms that can help to reduce man hours, physical labour and timelines in management of clinical trials.
The growing interest in such decentralized clinical trials (DCTs) using "virtual elements" provides less dependence on traditional research facilities or intermediaries for data collection. Even regulators like FDA & EMA recommend adopting decentralized trials using digital tools.
Top 5 drivers that help to improve the study start-up timelines
The top 5 drivers include
Regulatory submissions
Site selection
Contracts, budget and insurance
IRB/EC submissions
Site initiation
One should proactively consider these drivers at the beginning of project planning irrespective of centralised or decentralised. Integration of all these drivers is crucial with simultaneous activities and periodic verification and controls. This helps to achieve in-time study start-up.
Let's understand each driver in detail.
Regulatory submissions
It is a complex process and requires coordination from diverse team members from various countries and regions. A well-planned regulatory submission can reduce regulatory review timelines and help in achieving start-up program as planned. It is essential to allot sufficient time to review all the requirements in advance. This helps to make complete regulatory submissions and successful regulatory decisions.
---
Do you have regulatory related queries? Click here to connect with our regulatory team
---
Site selections
Clinical trial site selection must consider site feasibility which comprises the following
site capabilities,
human resource,
technical infrastructure,
patient population,
investigator team and
their interest in clinical research as well as IRB working pattern,
frequency of meetings, requirements and contracts.
One need to consider the clinical trial contracts during site feasibility as they may delay the study start-up timelines
Contracts, budget and insurance
Contract and budget negotiation between sites, sponsors, suppliers, logistic partners, central laboratories, and clinical trial insurance companies are very crucial as they occupy considerable time and efforts. One needs to assign team members with sufficient experience. Inexperienced team members need supervision and can help in assistance rather than assigning complete responsibility.
CRO can maintain a database of the sites that have worked in past and use that experience for all type of agreements with various sites and support partner organisations.
IRB/EC submissions
Every site has its own EC submission requirements and governing national regulations. Not all countries permit central EC approvals for clinical trials. It is important to understand the national requirements and accordingly integrate the same in project planning.
A simple checklist of requirements can help plan the submission documents effectively and diligently. Use of a central IRB overseeing multiple sites significantly expedites the IRB/EC approval process. Wherever feasible use of central IRB can be considered to reduce any start-up time lags.
Site initiation
One must plan site initiation calendar based on the factors that can help open a site. It is important to schedule the timelines and to plan study specific team training before the sites are open for patient enrolments. Planning robust training program comprising of all trial related nitty-gritties with proper attention and team participation on the protocol requirements such as patient recruitment, informed consent process, TU supplies, laboratory investigations, despatch logistics, safety reporting, documentation, training on software and digital platform etc. helps in smooth study conduct. Inadequate trainings hamper quality of the study and would cause interruptions in study conduct.
Conclusion
To summarise, the clinical trial start-up process is complex and requires early planning. It requires frequent and continuous communication among all the stakeholders such as sponsor, CRO, investigator and the team. It is reported that the use of a CRO as clinical study partners help decrease the amount of time for the administrative phases of the start-up process, specifically the contract and budget negotiation and IRB approval. Research indicates the start-up process for any clinical trial being at least average of 5 to 6 months and CROs seem efficient in completed all site-related activities 6 to 11 weeks faster than sponsors.
Additionally, decentralized functions, investment in technology, and organizational strategies aid in improving the study cycle management and performance. Sponsors and CRO should impart sufficient training to their teams maintain a careful supervision and implement controls.
A successful Clinical trial is an important milestone in drug development. It encompasses several stakeholders, numerous human resources, thousands of hours and enormous costs. Careful planning of study Start-up Planning results in stupendous performance and smooth conduct of clinical trials.
---
Are you looking for support for your clinical trials?
Clinvigilant has expertise in providing end-to-end solutions for your clinical trials by implementing strategies and digital tools to accelerate your clinical trials. Provide your requirement details in the below form to connect with us and explore our services.
---