Track patient's journeys in a single platform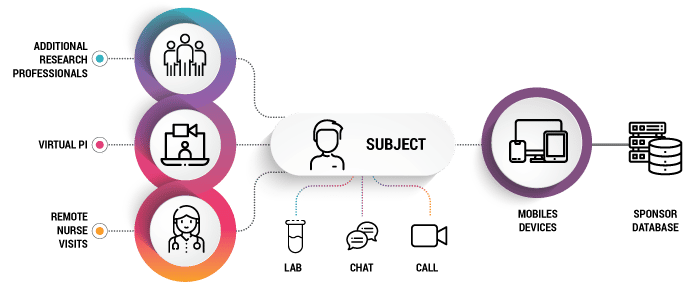 Digitizes the clinical trial process for patients, sites and sponsors
Enables remote trial conduct and supports remote site-patient interactions (Video & Text Chats)
Creates audit trails of every interaction and data exchange
Real time data, compliance and status view across all relevant roles
Facilitates remote monitoring of the clinical trial
Cost Effective
By reducing the need for sites, we can lower costs, save resources, and reduce set-up times.
Increased Patient Enrollment
Increase patient diversity and enroll more participants from minority backgrounds.
Reduced Patient Dropouts
Automated remote digital data collection reduces drop-out rates by eliminating the need for frequent patient visits to the sites.
ClinVigilant® Platform Capabilities
eConsent
Engagement
Direct Data Collection
eConsent
Digital consent management
Layered/Tiered consent
Ability to withdraw consent anytime
Automated Reconsent management
With immediate alert as soon as new information is available
Process administration flexibility
Remote / at site
Digital / paper process
Electronic / Wet Ink signature
For better comprehension of consent information (key word tagged)
Glossary / Videos / Document / Images
Auto-generate eTMF related logs / forms
Knowledge and comprehension of the consent information
Omnichannel communication
For additional clarifications / information ask
Engagement
Direct Data Collection
GET IN TOUCH
We are always available for a conversation.