How Using Digital Tools Accelerate Your Clinical Trials?
A "digital clinical trial" uses digital tools to handle end-to-end solutions to enhance patient and investigators experiences with clinical trials.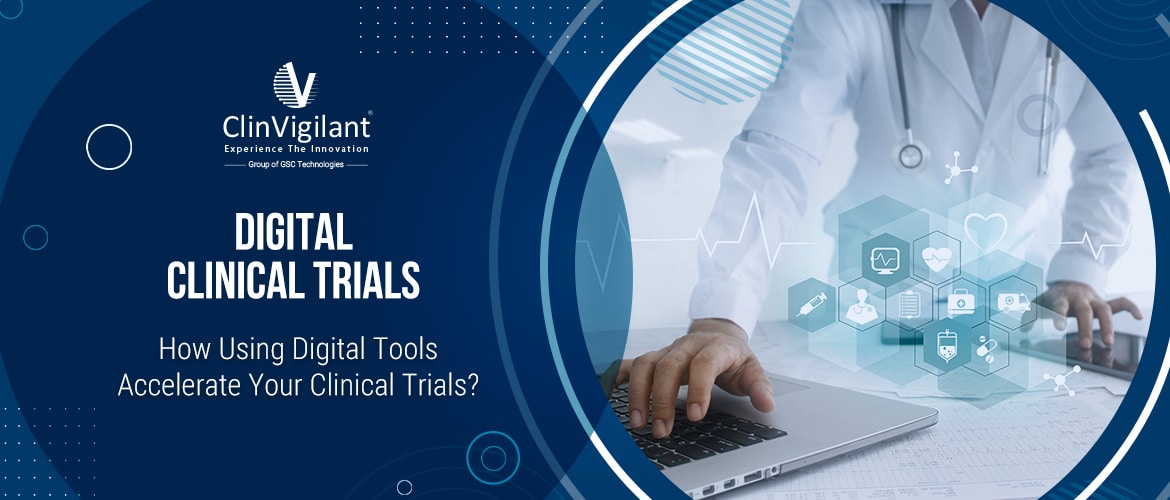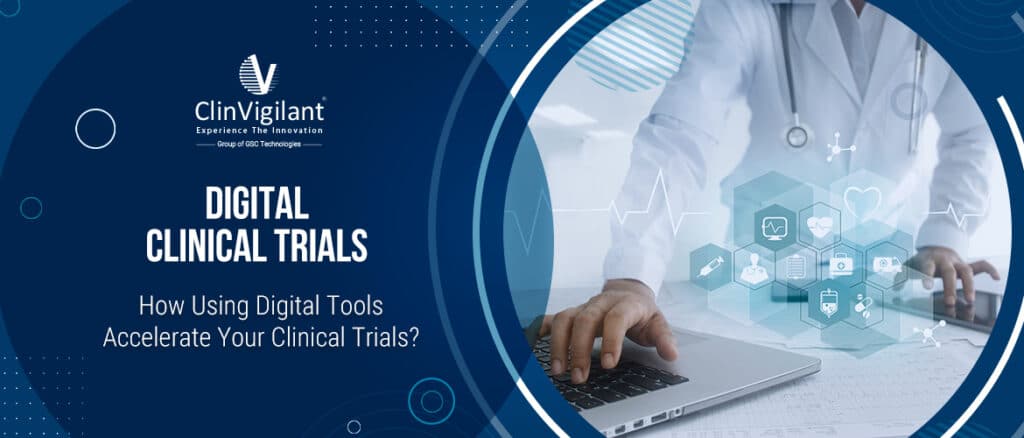 Digital clinical trials also enable: 
Covert randomized intervention allocation
Enhance participant access, engagement
Trial-related metrics or interventions
Have the potential to change clinical trials and reduce their costs.
When is a clinical trial considered "digital"?
A digital clinical trial supports every stage of a standardized clinical trial. A promising and cutting-edge solution to the problems with traditional clinical trials is to digitalize them. Digital technologies speed up the knowledge gathered from traditional clinical studies. Through its ability to empower and benefit researchers and trial teams, digital technology can increase the effectiveness of clinical trials.
Digital clinical trials are a concern for the National Science Foundation and the National Institutes of Health of the United States since they are less expensive and time-consuming while providing participants and research teams with positive experiences.
An in-patient visit is not necessary for a clinical trial to continue. Participants in some digital clinical studies do not interact with the researchers, even though lengthy procedures like biopsies may need close supervision by qualified medical staff.
A digital clinical trial's components
The elements of a digital clinical trial apply from study design to study conclusion. 
Collecting digital health information
Results as reported by patients
Provides ecological snapshot
Electronic biomarkers
The use of mobile and wearable sensors
Data security
Digital Analytics
Real-world data
Interoperability
Computer learning
Artificial intelligence 
Research in precision
Certain interventions
Digital recruiting and retention of patients
Tools for ethical approvals
Helps in diversifying in recruitment
Provides online consent
Supports bidirectional communication
Helps to engage patients through social media
Why are researchers drawn to clinical trial digitization?
Traditional clinical trials are difficult to run successfully because of these challenges.
Low participation in traditional clinical trials leads to burdens in patient identification, patient recruiting, data gathering, participant cost increases, and growth.
The inability to travel or their distance from the study site restricts the variety of participants in a clinical trial.
It can be expensive or perhaps impossible for them to participate.
Clinical trials could be redesigned and made more affordable with the help of digital technologies that are used in digital clinical trials to improve access to participants, study-related data, scales, and assessments.
Data collection in digital clinical trials
Digital health technologies measure the parameters of participant health characteristics effectively. Such as;
Heartbeat
Sleeping time
Breathing
Compliance with medication
Physical exercise
Before being employed in clinical research, some of these parameters require more testing and validation. The capacity to collect data independently of "fixed" research centres is one of the new capabilities that digital health technologies give the research community that can improve data collection and the clinical trial industry.
The digitization of clinical trials has many advantages. A complete digital clinical trial gives potential participants access while offering an interactive patient monitoring and assessment system, regardless of where they live or work. Technologies have the potential to be a game-changing strategy, and the Covid 19 epidemic has never made the need for better efficacy more pressing.
Electronic monitoring and biomarkers
Digital biomarkers are measurements that combine with digital technologies from pathological, anatomical, physiological, social, or patient-reported data.
Although many digital biomarkers are still in the validation stage, they may one day offer comprehensive data on physiological processes, diagnosis, dosage, and endpoints for clinical trials. (For example, cardiogenic chest wall vibrations to evaluate the clinical state of heart failure patients)
Surveillance of safety in electronic clinical trials
Researchers are combining tools with conventional biomarkers to assess their efficacy and safety since digital clinical trials are a popular subject in the clinical trial sector.
The ability of digital tools to continuously collect data and transmit it to investigators should improve the identification of sporadic cases that are unlikely to occur during a conventional trial visit. We need to identify and report unfavourable and safety consequences to complete a clinical trial on schedule.
Analytics of data
Real-world information
It is already possible to create a clinical trial infrastructure that is genuinely flexible, expandable, and scalable that makes use of the electronic health record. A foundational level of interoperability for an application-driven data economy is getting closer to the health record.
Data from mobile devices and patient-reported outcomes may evolve into standard investigation components and endpoints as part of a computerized real-world data system.
Modern analytics
Artificial intelligence and machine learning enable the development of advanced analytics that we can use in various aspects of digital clinical trials. For instance, we can customize supervised detection techniques and improve detection accuracy by using automatically generated clusters or subtypes.
Similarly, we may identify context and determine proximal outcomes using supervised and unsupervised learning techniques. These strategies assign participants to enhance computational phenotyping and digital data extraction and improve the understanding of research findings.
Enhancing study techniques
Digital technology improves and customizes clinical trial methodologies, such as micro randomization. These techniques also allow us to tailor how these study aids are delivered and increase each participant's benefits.
Data protection
Maintaining laws and guidelines for privacy, security, and ethics has become more difficult due to digital health technologies. The importance of taking security precautions when gathering, transferring, and keeping data is highlighted by digital technologies and remote monitoring systems.
Some procedures, such as location information, can expose study participants to legal repercussions. Because of this, the FDA has included cybersecurity in the requirements for medical device certification.
Even if we want to improve patient entry, we should inform all parties about the advantages and disadvantages of sharing patient data. Remote technologies must be included in informed consent documentation while ensuring that they do not obstruct data collection, transmission, disclosure, and sharing.
Patient engagement through digital recruitment in clinical subsidiaries
Patient involvement, recruitment, and informed consent slow down the expeditious conclusion of standard clinical research. There are no criteria for patient recruiting, although there are criteria for using new technology following the informed consent process. There are also guidelines for communication platforms and social media. For instance, it might be fair to demand that tweets be reviewed before being used to support a clinical experiment.
Participant retention in conventional clinical trials is impacted. There are several causes for that.
Concerns about randomization and placebos
Informed consent forms: Issues and solutions
Inadequate reward
Lack of understanding of clinical trial procedures.
Digital technologies handle all of these problems. Applications that track suggested interventions make it possible to communicate with participants more effectively. A video or other visual representation can help get informed consent. To the maximum extent possible, we should make the payments through readily available, accessible technologies.
---
Click here to learn more about patient engagement tool in clinical trials
---
Data on digital health
When we find participants for a clinical trial, we should collect participant data as a necessary step in the research procedure. Clinical trials may use digital data,
Clinical and societal information
Activity data 
E-health records
Images or videos taken using cell phones
Results as reported by patients
Bodily samples
In conclusion, digital trials are changing how clinical trials are carried out by successfully managing them with the least resources to achieve timely and cost-effective completion of clinical studies. Even regulatory organizations such as the FDA, EMA, Health Canada, and others are pressing sponsors to digitize their clinical trials by providing several guidelines for specific digital tools.
---
Do You Have Any Questions?
Do you need our support for your clinic trials or do you have any questions? Provide brief details below to connect with us and explore our services.
---