Risk-Based Clinical Trial Monitoring
Clinical trial management is a difficult task that needs careful planning, adherence to rules, and collaboration amongst numerous stakeholders; sponsors, investigators, and contract research firms (CROs). Clinical trial risk-based monitoring (RBM) has arisen as a more strategic, targeted strategy that improved connectivity and data analytics advancements.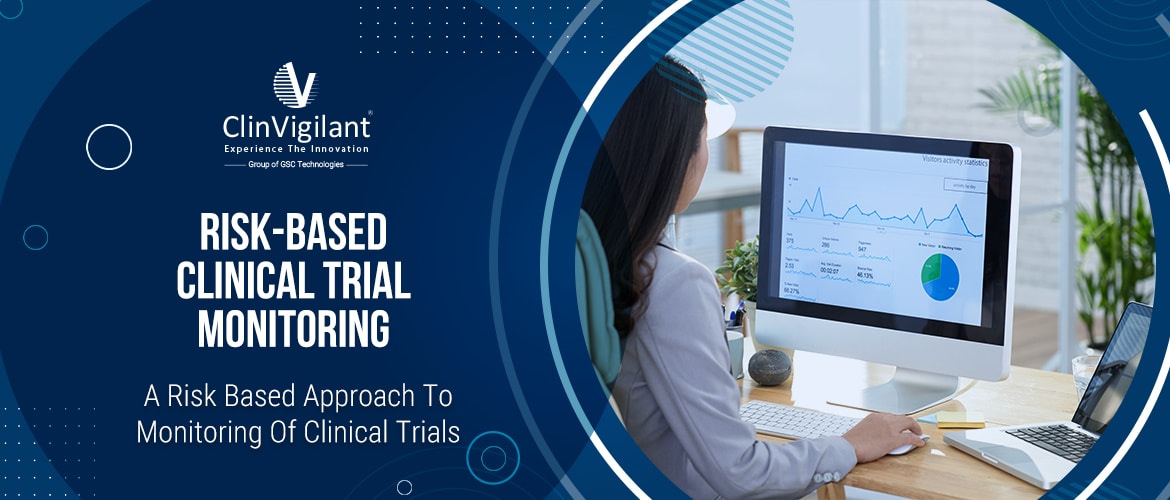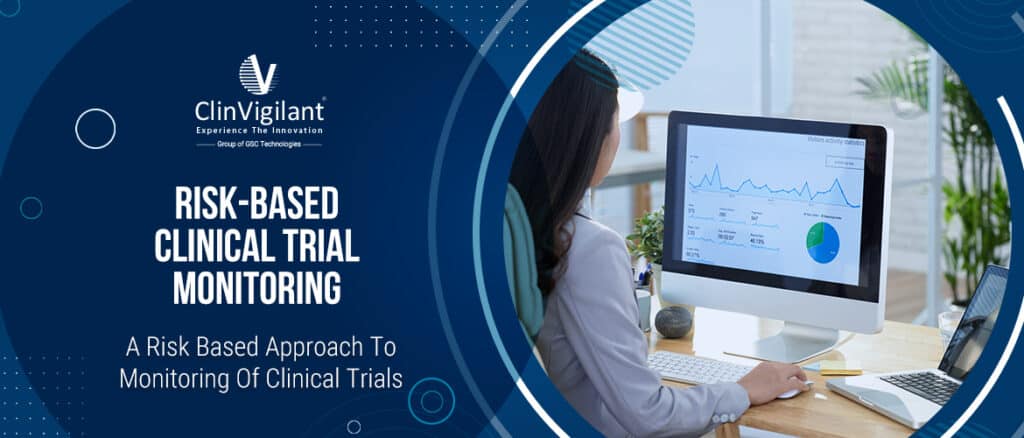 What is risk-based monitoring?
Risk-based monitoring helps to ensure the quality of clinical trials by identifying, evaluating, monitoring, and minimizing the risks that could affect a study's quality or safety.
Using a risk-based approach to monitoring, the US Food and Drug Administration (FDA) has provided guidance that describes three steps:
Determine the crucial procedures and data
The sponsor must be aware of the factors that are most crucial for each study, from informed consent to eligibility screening and tracking of adverse events, to effectively monitor the quality of a clinical trial and the safety of its participants.
Make a risk analysis
Finding particular risk sources and the impact of study errors on those risks are steps in the risk assessment process.
Create a monitoring strategy
A monitoring plan is in charge of informing trial participants of hazards and monitoring procedures, according to FDA guidance.
---
Click here to learn about Risk-Based Quality Management (RBQM)
---
Why is there a rise in risk-based monitoring?
Clinical studies have become significantly more expensive and sophisticated in recent years. The typical on-site evaluation of trial data can account for up to one-third of a study's costs.
This method, which relies on exhaustive source data verification (SDV), has shown to be not just resource-intensive but also constrained in its capacity to detect and avoid problems.
It is now widely accepted that the process for clinical trial monitoring needs to change since efficient clinical trial monitoring is crucial to ensuring trial participants' well-being and maintaining the integrity of the study's results.
Several regulatory bodies, including the FDA, agree that a more centralized, risk-based strategy is currently the most effective way to oversee clinical trials.
Why risk-based clinical trial monitoring it better?
The employment of centralized monitoring approaches is one of the main characteristics of risk-based monitoring. Centralized monitoring provides several advantages over on-site monitoring based on 100% source data verification:
Fewer mistakes
Like any manual effort, on-site monitoring techniques are subject to mistakes. Risk-based, centralized monitoring is more likely to find problems since it uses more automated reviews to determine when manual intervention is necessary.
Lower price
We can reduce the cost of monitoring with centralized monitoring by limiting procedures like on-site audits to study sites where problems are more likely to occur.
Improved analysis
It is considerably simpler to utilize statistical and graphical inspections to find outliers or other unexpected trends when we collect all the data into a single risk dashboard.
Comparison across sites
Additionally, centralized monitoring enables you to compare data across sites to evaluate performance, spot possibly false data, or find broken or incorrectly calibrated equipment.
More rapid outcomes
It is also feasible to locate and fix problems while the trial is still running by a dashboard.
---
Looking for support in your clinical trial? Click here to connect with us or fill out the form below
---
The monitoring process
FDA has offered some specific instructions on how to draft a monitoring plan. Once the monitoring plan is in place, it is the sponsor's responsibility to carry it out. Although details will vary between research, a risk-oriented monitoring approach will include the following tasks, all of which pass through a thorough risk dashboard created for your study:
Gathering and submission of data
The central monitoring system needs consistent and dependable data to flow from each study site. We can do it either manually by entering and transferring the pertinent data or automatically by connecting the data input system and the main dashboard.
Dashboard observation
The dashboard's purpose is to give you a quick overview of the status of each study site and the particular risk variables in your trial. Your monitoring strategy should assist you in determining whether more investigation—including in-depth statistical analysis and on-site data verification—is necessary when a site exhibits a high-risk level.
Statistical investigation
It can be helpful to run additional statistical studies to keep an eye on your risk dashboard to help find issues.
The risk dashboard
The hub of a risk-based monitoring program is the risk dashboard. The dashboard should contain all the study data and clear visual indicators for high-risk trial sites.
A monitoring strategy will frequently include thresholds for risk indicators that correlate to mild, moderate, or severe risk for that indicator to aid those visual cues. You may color-code your dashboard using these criteria to summarize risk levels by location or country.
The risk dashboard should have more capabilities than just its basic functionality, including the ability to perform further analysis.
Analysts should be allowed to create various sets of risk thresholds to determine the sensitivity of their conclusions. To evaluate the entire performance of the site or the nation, they should also be able to calculate overall risk metrics.
How to start risk-based clinical trial monitoring?
Addressing organizational transformation
The implementation of these methods has been gradual, despite the industry's active debate and rising consensus regarding the advantages of a risk-based strategy.
Switching to more centralized monitoring may have a cost. It might be easier to switch to risk-based monitoring, and some instruments are surprisingly affordable. To get you started, follow these simple steps:
Find a supporter and a corporate sponsor
Without an internal champion and an executive sponsor, a significant organizational change cannot happen. Sometimes the same individual can play both parts, although the internal champion is frequently a practitioner who recognizes the need for change, appreciates its potential, and successfully pitches the concept to an executive sponsor. The executive sponsor then makes room for the modification to take place.
Get the appropriate tools
A variety of technologies may be necessary to aid in centralized monitoring. You can start with software that offers quick, visual results without necessitating a database, programming, or even statistical experience.
Those skills shouldn't be necessary to start, even though they might be helpful later.
Begin modestly
Try to begin your risk assessment and centralized monitoring efforts with a single study or a small group of studies once you've designed a basic monitoring strategy and put the necessary tools in place.
Expand naturally
You may iron out any flaws in your monitoring procedure by starting small. With each iteration, the monitoring procedure becomes easy and makes it simple to scale up to more investigations. This strategy is significantly less intimidating than making one abrupt change, and the flexibility to learn as you go should eventually result in improved processes that scale more successfully.
Why a risk-based monitoring toolbox?
To ensure that a clinical trial is conducted, recorded, and reported in compliance with the protocol, Standard Operating Procedures (SOPs), Good Clinical Practice (GCP), and the relevant regulatory requirement(s), monitoring is the act of watching over the trial's progress (European Medicines Agency 2002).
Trial monitoring's goal is to ensure that human subjects' rights and welfare are protected and that the trial data supplied is correct, complete, and verifiable from sources.
Additionally, all centralized and local actions about data and procedural checks, as well as general surveillance and stimulation of the trial progress, must be included in the definition of monitoring activities. They shouldn't be limited to in-person encounters.
Objective and content of a toolbox
Toolbox collects previously proposed or verified risk-based tools and methods. The visitor may contrast various tools, evaluate their breadth, particularities, strengths, and limitations, and select those appropriate for constructing a particular monitoring approach. We can consider any tool, including templates, checklists, protocols, software, and devices.
Tool identification
A systematic assessment of the literature from January 2006 to June 2015, a search of the gray literature, and a survey of clinical trial units and academic sponsors within the ECRIN network were used to identify the tools (2013).
The goal was to identify the present status of clinical trial practice and guidelines, important monitoring components, risk assessment methods, and risk-adapted monitoring systems.
Risk-adapted monitoring tools
On-Site Monitoring
Source data verification (SDV) is still considered a crucial activity in on-site monitoring (OSM). SDV was the most crucial step in achieving good data quality for many years.
However, the efficacy of comprehensive SDV has come under scrutiny in recent years, and there is mounting evidence in the literature that 100% SDV is an expensive but ineffective strategy for ensuring excellent data quality.
Central monitoring
Performing all activities centrally for the surveillance of a clinical trial is referred to as central monitoring.
These activities include data management reviews, statistical description or analysis, medical reviews, core labs, and review committees for the evaluations of scans or clinical endpoints.
Remote monitoring
In light of the quickly evolving technology, remote access to the source data is occasionally considered a replacement for on-site monitoring. With this strategy, data protection concerns could present significant challenges.
Conclusion
The move toward more centralized monitoring poses significant problems, but the shift is taking place regardless of where you start or how carefully your company adopts the idea. Furthermore, being at the forefront is preferable to falling behind, especially in a sector where time to market is crucial.
---
Need support for your clinical trial?
Do you have any questions about Risk-Based Monitoring In Clinical Trials? Or Do you need any expertise support for your clinical trials? Fill out the form below to connect with our experts.
---