Top Considerations For Improving Patient Engagement & Retention
A successful clinical trial accomplishes two important objectives through its conduct. Firstly, the recruitment of the participants. Secondly ability to retain them in the study usually know as patient engagement and retention. Reported research and experience over the years clearly demonstrate that participant recruitment and retention are two major challenges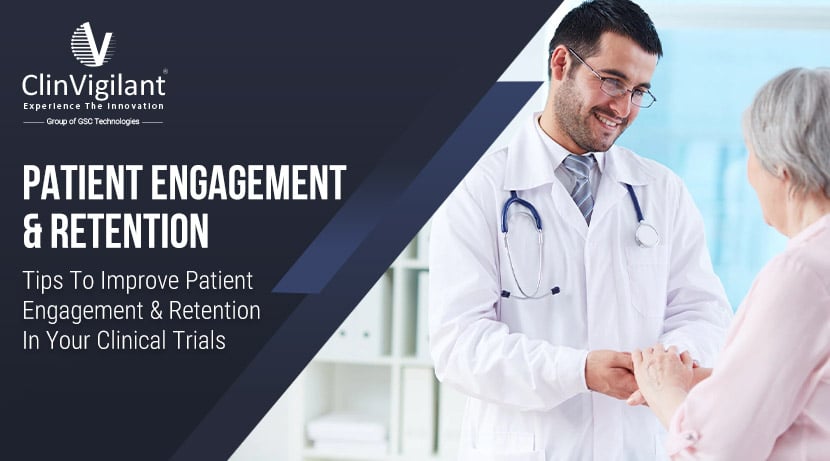 In any clinical study program irrespective of the phase of the study and sample size, If not managed and addressed properly during the planning and execution phase, it can lead to innumerable repercussions such as a prolonged study completion period, an increase in financial burden, etc. Loss of subjects affects the study sample size and this impacts both the scientific validity of the study and as well as perceived delays that incurs huge human and economic resources.
The industry data suggests that ~ 18% of patients randomized into a trial drop out affect the clinical trial timelines, affect development programs and impact delays in regulatory filing. Therefore one need to consider patient recruitment and retention at the beginning of the study plan and create strategies to minimize the same.
Every clinical trial is different and has its own intricacies and dynamics. Therefore, the strategy to improve patient recruitment, participation, and retention needs a customized plan that incorporates an adequate understanding of the study protocol design and objectives, the burden of disease in the population, disease pattern, and available patient pool at each of the participating centres, institutional infrastructure for conducting similar clinical trials and review of capabilities of the Investigator team in terms of manpower and their training and experience.
Considerations for patient engagement & retention and strategies to overcome
Lets understand the patient participation and retention strategy separately and address them into two parts of project planning.
Site-related issues
Conduct systematic site feasibility in terms of the prevalence of disease pattern, estimate patient pool, verify past hospital registries to estimate number of patients treated for the said pathologies, etc.
Assessment of team capability at the site is crucial. This shall be done in terms of qualification and experience in terms of handling various projects including proposed study protocol.
Site experience assessment in terms of past studies and strategies adopted for successful on-time completion.
Patient recruitment and retention strategy of the site
Communication plan used by the site with the participants
Infrastructure in terms of availability of staff for home visits, adeptness in the use of technology, etc.
EC practices in terms of subject enrolments and drop-outs
Any past legal issues with patient groups, sponsors, etc.
Patient engagement-related issues
Understanding the purpose of patient participation is crucial as poor patient understanding leads to reluctance in participation.
Inherent feeling of vulnerability and feeling of unavailability of the medical team to address the issues also contributes to the reluctance to participate.
Lack of availability of caretaken to accompany the study site is one of the hindrances due to which participants drop out of the program. For the patient who needs to travel long distances, one need to consider patients, pick up/ drop facility on a case-to-case basis.
Informed consent with proper information to the potential participants is extremely important and one needs to conduct in an assuring and empathic tone with utmost sincerity.
The confidence instilled in the participant by the investigator and the teams that he/she is cared for and shall be completely supervised during the study and they are available to meet up with the patient any time helps the participant to make a decision for participation.
Personal reasons such as travel distance, and absenteeism from work on the follow-up days lead to attrition of the patients.
It is important that the investigator team takes into consideration the convenient time and day for the patient follow-up visits to minimize attrition.
Once in the study, participants feelings of fear and anxiety, health-related status, improvement or no improvement, and side effects experienced are also a few of the reasons for discontinuation.
Communication with the patient is therefore extremely important on-site as well as off-site.
One needs to optimize the use of digital technology to maintain communication links open through phones, study-driven digital applications/ platforms, etc.
Investigator must possess manpower such as nursing staff, social workers, and medical officers who can perform home visits if required.
Every follow-up visit, the investigator/ team must continue to check the thought process of the participants. He/she needs to check their reluctance and must address the issues immediately.
Lack of interest in the issues/problems faced by the patient makes them lose interest and faith in the team. This should never happen.
It is indeed necessary to acknowledge that any protentional study participant is naïve and not familiar with the clinical research methodologies. In fact, they worry about it at times when they hear and/or read in lay press and media.
Patients must always be made at ease, active, and converse in an interactive manner. When we adopt such policies, one can expect openness and compliance from the patient and the attitude of the caretakers become positive and favourable.
Their contribution to science must be appreciated it motivates them. In today's digital world several tools are available and can be considered. Decentralized studies due to the limited geographical zone have an advantage in improved patient recruitment and participation.
---
Are you looking for the ways to improve patient engagement in your clinical trials?
ClinVigilant offers world-class software tools to very well manage your clinical trials in most efficient and economical way. Provide your details in the below form to connect with us and explore our services.
---